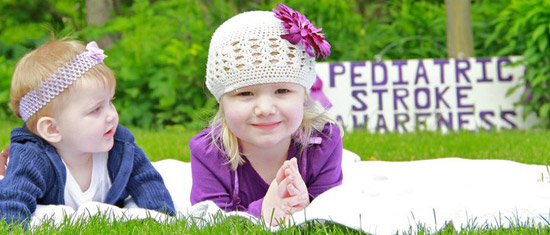 Help us increase Pediatric Stroke Awareness
Strength in numbers! We need your help to increase Pediatric Stroke Awareness.
Streak for Pediatric Stroke Awareness campaign
May is Pediatric Stroke Awareness Month
CHASA In Utero Stroke, Infant Stroke, and Child Stroke Fact Sheet
CHASA Pediatric Stroke Website
Watch the 2012 Pediatric Stroke Awareness Montage
A Few Facts About Pediatric Stroke
Perinatal, neonatal, infant and childhood stroke are some of the most common causes of hemiplegia or hemiparesis in children.
Perinatal arterial ischemic stroke is the most common form of stroke in children and it occurs in 1 in every 2800 live births.
Sixty percent of these children have specific symptoms such as recurrent focal seizures in the first three days of life.
However, forty percent of children with early stroke do not have symptoms and the stroke is recognized later with delays in movement, development, learning, or seizures.
A child who favors one hand, leaves the other hand in a fist or doesn't bring both hands together during play needs to be referred to an early intervention program and a pediatric neurologist for further testing.
Delays in early milestones – rolling, sitting, pulling to stand, crawling, and walking – are additional reasons for evaluation.
A child with early stroke may be unwilling to bear weight on one leg or may point the toes on that foot or walk on tip toe.
The stroke diagnosis is confirmed with ultrasounds and MRI.
Pediatric stroke survivors may develop:
cerebral palsy (difficulty moving a part of his or her body),
epilepsy (seizures),
sensory differences,
visual and hearing problems,
and have cognitive (learning) or behavioral problems.
Children often receive occupational and physical therapies for decades to help them learn functional skills of daily living and increase movement if they're experiencing motor difficulties. Children with epilepsy usually take medication to stop or reduce seizure activity. Special educational programs may address learning and behavioral differences.
Additional Information About Pediatric Stroke
Interview with Dr. Heather Fullerton: Treating Stroke in Newborns and Children
See Resources in Your State for local pediatric stroke resources