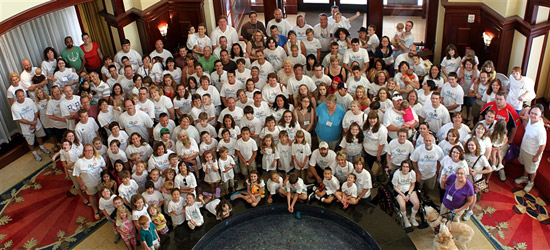 Watch this page for details about the 2014 CHASA Family Retreat!
The CHASA Family Retreat is an annual gathering that gives families of children who have hemiplegia, hemiparesis, or hemiplegic cerebral palsy a chance to talk with others who face similar challenges.
The retreat allows a child or young adult with hemiplegia to meet other children who have similar challenges. Children learn that they're not the only one wearing a brace, going to therapy, or taking seizure medications. Families join together in activities and the social time allows parents to ease into conversations about anything related to their child's condition. The children, siblings included, look forward to spending time each year with others who understand their challenges.  Teens and young adults with hemiplegia or hemiparesis enjoy hanging out together and often stay connected throughout the year.
Check Out Some of Past CHASA Family Retreats
A big thanks to Jennifer Haley, a pediatric stroke survivor, for creating these videos!
CHASA Family Retreat -A look back at past retreats
CHASA Family Retreat – Alabama 2011
CHASA Family Retreat – Alabama 2010
CHASA Family Retreat -Alabama 2009
CHASA Family Retreat – Colorado 2006