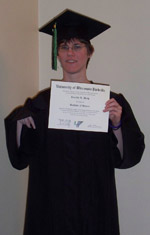 CHASA is proud to offer college and vocational school scholarships for those affected by childhood hemiplegia or hemiparesis due to any cause, or those affected by pediatric stroke. Read application for details.
Deadline for application is August 31st and recipients will be notified by October 31st and checks will be mailed in later November. Please read the scholarship guidelines listed in the application to determine your eligibility.
Please note that some scholarship websites have erroneous information printed regarding CHASA scholarship amounts, total number of scholarship given, and application deadlines. We have asked that they correct the information, but have received no response. Official information regarding CHASA scholarships resides only on the chasa.org website. We will only be able to accept applications with the April 2013 Revision title.