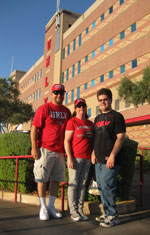 CHASA is proud to offer college and vocational school scholarships for those affected by childhood hemiplegia or hemiparesis due to any cause, or those affected by pediatric stroke. Read application for details.
Deadline for application is August 31st. All applicants will be notified by November 15th and checks will be mailed in later November. Please read the scholarship guidelines listed in the application to determine your eligibility.
Please note that some scholarship websites have erroneous information printed regarding CHASA scholarship amounts, total number of scholarship given, and application deadlines. We have asked that they correct the information, but have received no response. Official information regarding CHASA scholarships resides only on the chasa.org website. We will only be able to accept applications with the April 2013 Revision title.
2013 CHASA Scholarship Recipients
Julie  – majoring in business
Stewert – majoring in wildland fire/fuels management
Jessie – majoring in criminology
Sara – studying at a culinary institute
Travis – majoring in business
Leslie – majoring in English and Spanish, with plans to become a bilingual speech-language pathologist or translator
Caitlyn – majoring in psychology and child development
Sarah – plans to become civil rights attorney
Joshua – majoring in linguistics
Matt – majoring in computer science
Austin – majoring in biology
Elizabeth – majoring in zoology and minor in anthropology
Amber – majoring in social work
Scholarships for Students with Disabilities
The Anne Ford and Allegra Ford Thomas Scholarships
American Association on Health and Disability (AAHD) Scholarship
Epilepsy Foundation Scholarship List
Foundation for Science and Disability Science Graduate Student Grant Fund
Microsoft DisAbility Scholarship – Microsoft is offering four different types of technical scholarships for the 2014-2015 academic year to current undergraduate students: General Scholarships, Women's Scholarships, Minority Scholarships, and Scholarships for Students with Disabilities.